Hello friends, and welcome to Young Money! If you want to join hundreds of other readers in learning about finances, career navigation, and figuring this life thing out, subscribe below:
Happy Tuesday my people! I hope your football teams performed better than the Falcons this weekend.
Many of you may know that I quit my job to travel the world for a year. What you may not know is that I have met a ton of Americans and Canadians abroad. Many of these people are recent graduates who chose to travel before working, or other people like myself who left their jobs to go see the world. However, a surprising number of my fellow backpackers are working full-time jobs right now. They didn't pick up jobs in Budapest or Barcelona; they brought their laptops from New York City, Chicago, Toronto, and Los Angeles to Europe and kept the work going overseas. I thought this phenomenon was fascinating, so I wanted to share with you guys. Let's dive in.
Backstory
COVID-19 changed work as we know it forever. Jobs that previously required 40+ hours a week in the office are now largely remote, and this is a good thing. Companies can now hire talent from all around the world, location-agnostic. Talented employees benefit as well. They can lobby for permanent remote work and live anywhere that they wish. If their companies want to mandate a return to office, they can likely find a similar remote role with another company. The pool for potential employees has never been larger, and the flexibility offered to many workers has never been higher.
While vaccines have been largely distributed, and it is safe for people to return to offices, most workers want to remain remote (or at least hybrid). Companies that refuse to accommodate to this labor force shift risk losing out on talent.
Enter the "Nomad" Worker
For over a year, international travel was largely shut down. However, the same vaccine that made in-person work possible also reopened international air routes. Suddenly, vaccinated Americans could get out and see the world again. In a world where remote work is king, but travel is now an option, some workers decided to push the limits of "work from home".
In Budapest, I shared a hostel room with a Californian named Perry. Perry worked for a CA-based technology company, and he had been traveling in Europe for months. He didn't have a strict hourly work schedule, but he did have to attend certain Zoom meetings throughout the day. Oftentimes, he would set up in the corner of the hostel's living room with his web cam on while the rest of us grabbed dinner. Perry had been all over Europe, and he did not intend to stop anytime soon.
In Lagos, I met Mike. Mike was a Toronto native about my age, and he worked for a business development group. Mike took "work from home" even further, and he got an Airbnb in Lisbon, Portugal for a month. He works 2 - 10 every afternoon and explores different European cities on the weekends. Mike doesn't even have an apartment in Toronto anymore. When his lease is up in Lisbon, he's probably going to Italy or Croatia for a few weeks. So just how feasible is this, both financially and logistically? Let's take a look.
Funding a Nomad Lifestyle
Money is the first, and most important part of this equation. How much $$ will you spend? How much do you need to make?
Flight
One of the biggest expenses is the flight itself. For $350, you can fly direct from NYC to London.
"But Jack, what if I'm not from New York?"
It's going to be more expensive to fly from other cities to Europe. For example, the same flight direct from Atlanta to London is $580. However, you can fly from Atlanta to New York for $40, and then catch the above New York to London flight for $350. In general, the cheapest international flights leave from the airport that is geographically closest to your destination. Fly from Houston or Miami to South America, LA to Asia, and New York to Europe.
So if you live in Atlanta and want to work in London, you are looking at $390 for a flight.
Lodging
This is the biggest variable cost you'll have. Hotels in Europe can cost anywhere from $60 to $150 a night, much like in America. That's between $1800 and $4500 a month. If you're making a killing, knock yourself out. However, the way to maximize your money is staying in hostels.
Hostels are awesome. I was a bit skeptical before coming to Europe, but they have been the coolest part of the whole experience. You basically have a big dorm room that you share with other travelers, university style.
London, England is the most expensive city in Europe. I can stay at a 9.2/10.0 rated hostel for $20 a night. That's only $600 a month for those keeping score back home.
Now there is a trade off. You're only going to be spending $20 a night to stay in the heart of London, but you will be sharing a room with 9 other travelers. Guess what? It's awesome. You'll end up exploring the city with Australians, Italians, and other Americans. You'll exchange so many fascinating stories and meet people from all over the world. Everyone is doing the same thing: traveling. Since I've been on the road, I've had zero issues with other residents, but I have made a ton of friends.
Logistically, the hostels all have drawers and lockers where you can safely store your belongings during the day. Many hostels offer free breakfast, free dinner, free beer, free tours of the city, etc. Remember, London is the most expensive city in Europe. I paid $12 a night in Prague, Budapest, and Krakow, and the Krakow hostel had two free meals. Realistically, you will only spend ~$500 a month on lodging expenses to do this, and hostels provide great opportunities to make new friends.
If you intend to be in one city for a while, Airbnb works well too. For $800, you can get a private 1BR place in Sevilla, Spain for the month of October.
Grab an Airbnb if you want to stay in one city for a while, or hostel hop if you want to travel. Hotels are the worst bang for your buck.
Other Travel Expenses
You will probably want to visit different cities. Luckily, Europe has a fantastic rail network. Americans can buy a Eurail pass for $800 that will give them unlimited free train rides around the continent for 3 months. That may seem a bit pricy, but it pays for itself quickly. I've already traveled on $400 worth of trains in less than a month, and it was all covered by the pass.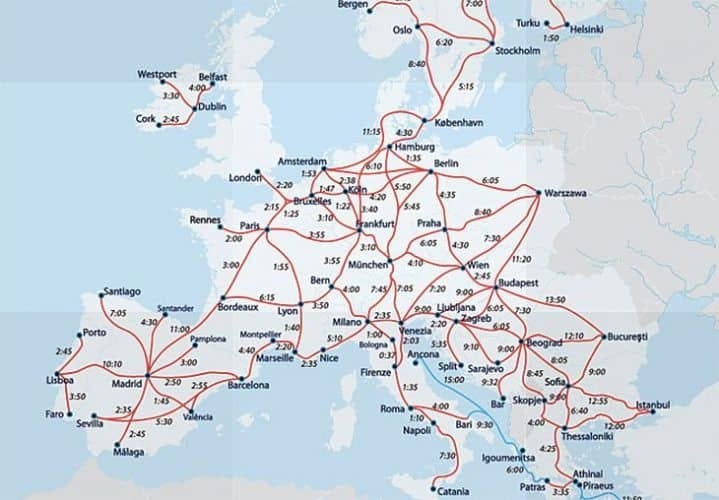 Flights within Europe are cheap as well. For example, it costs $34 to fly from Madrid directly to Berlin.
Everything Else
You're going to spend money on food, drinks, entertainment, and other activities. Most cities in Europe offer affordable food options, and the hostel staffs know the best places to grub down. You can eat well for $20 a day, less than that if your hostel provides any free meals.
Nights out are a massive variable cost. You may pay $1 a drink in central Europe (think Budapest), and $5 in Barcelona. That's largely going to depend on the city and venues.
Gym memberships are another cost. If you work out, you're going to want to keep it going in Europe. I have found free outdoor gyms in pretty much every city. These gyms come equipped with pull up bars, rings, dip bars, and various heavy objects (rocks, cinder blocks, etc.) It's a bit cave man, but you can certainly make it work. You can also find membership discounts if you know where to look. I got a one month membership in Sevilla for $5 thanks to a September special.
There's going to be a million fun things to spend money on. I paid $30 for a kayaking tour of the Lagos coast, and $5 or so at various museums throughout Europe. Besides multi-day trips like skiing, or expensive tourist traps like booze cruises in coastal towns, most entertainment options are cheap (or even free).
Monthly Cost Summary
Initial flight: $400
Lodging: $500, $800, or $2000 (hostel, Airbnb, hotel)
Other travel: $267 ($800 pass / 3 months)
Food and drinks: $600
Miscellaneous costs: $150
After paying a one-off travel cost, you're at $1500 a month for everything (and that's assuming you eat well and go out a lot. This number could be lower.)
Additionally, western Europe costs a lot more than eastern and central Europe. If you stick with the eastern half of the continent, you can live like a king for cheap.
Feasibility
Realistically, it's entirely affordable to work and travel if you have a decent remote job paying $50k+ a year. (If you can sublease your apartment in the US, it becomes even easier.) The real question at this point is will it work logistically.
If you have to go back in the office part-time, there's no way you can work internationally. However, many companies are very flexible, because they want to retain talent. You proved that you could work remote for the last year and a half. If you want to stay remote, you probably have more leverage than you think. Why? Because it will cost a lot more time and resources to hire and train someone else than it will to keep you. Some jobs require in-person work; that's the nature of the business. However, most jobs that were fully remote since the pandemic began can easily stay remote. You just need to ask.
If you do decide to go remote, your hours are probably going to be wack. In Spain, I would be working from 2 PM to 11 PM everyday on my old work hours thanks to the six hour time difference. If you work on your own time, obviously you'll be more flexible.
I've been focusing on Europe since that's where I have traveled so far, but Central and South America offer the same travel upside with US time zones. You can kick it in Santiago, Buenos Aires, and Rio while working your normal hours. Something to consider.
Should You Do It?
I don't know, that's up to you. That being said, I'm a big fan of doing what you want, and doing what makes the best story. I've witnessed several Americans spend the morning exploring cities in central Europe, the afternoons working, and the nights going our with our friend group. It's not a lifestyle for everyone, but it is certainly a great way to scratch that adventure itch. If your choices are working from your apartment in the States or visiting an exciting new country, why not check it out? Plus there's something funny about answering an NYC Zoom call from Prague.
That's all I have for today, I hope you all have a great week 🤝
If you liked this piece, make sure to subscribe by adding your email below!